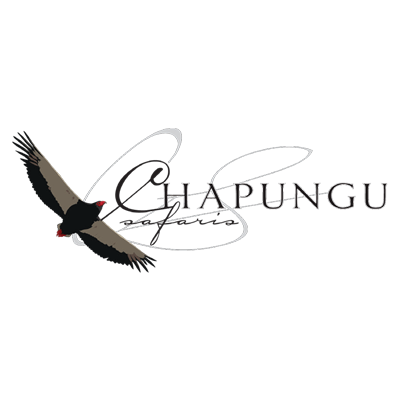 Established in 2000 by Jacques Hartzenberg, Chapungu Safaris mainly specialize in big game safaris in South Africa and Zimbabwe. Here we hunt various private and national reserve concessions as well as our own pristine flagship property, Kalahari Oryx.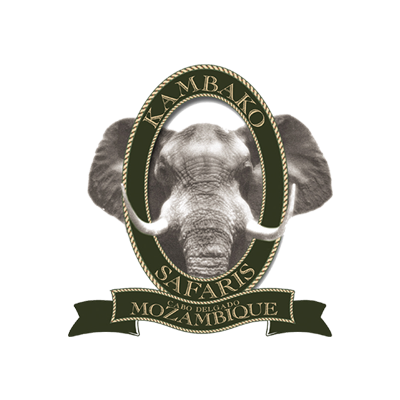 In 2005, with more than 23 years' hunting experience, Jumbo Moore moved his attention from his "Jumbo Safaris" to Kambako Safaris who operate in the famous Niassa Reserve in northern Mozambique. This unspoiled property is every big game hunter's ultimate adventure.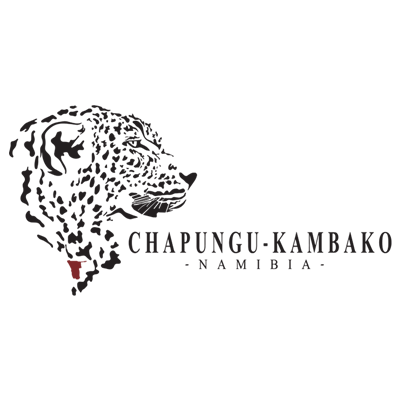 During 2014, Herman Coetzee, Pieter de Lange, Louis Kotze and Uys Schickerling, operators of Chapungu-Kambako Hunting Safaris Namibia, combined their expertise and knowledge to create a successful outfit in the heart of Namibia. Currently, Uys is still part of the CKS-family, managing and conducting our areas and hunts in Namibia.
Meet the Team
Directors and Managers
Jacques Hartzenberg
Director & PH Chapungu Safaris (RSA)
Professional Hunter and Outfitter, Jacques Hartzenberg is the Owner of Chapungu Safaris Africa.  He started hunting at a very young age and has always had a love and deep passion for the African bush and its wildlife. Big game hunting became a specialty under the wing of his lifelong friend and mentor, Ray Townsend from Zimbabwe.  Jacques has always been inspired by the experiences, stories and biographies of well-known hunters. Combining his hunting skills, professionalism and his ability to stay calm in some of the toughest hunting situations, 90% of Jacques hunting clientele returns, year after year. Jacques is married to Sonja who is an artist and full time mom to their three young children, son's Jéan and Liam and daughter Émile.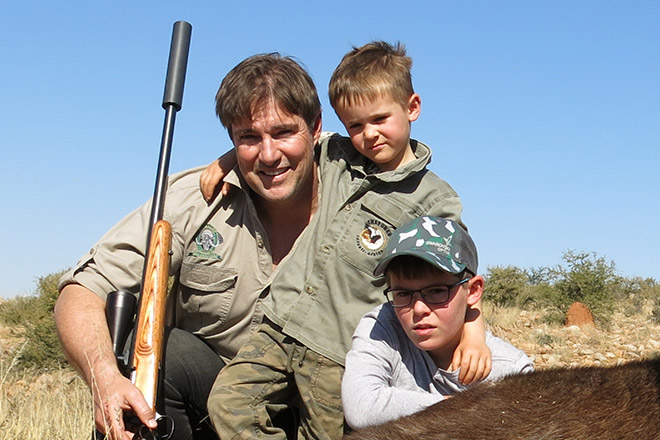 Jumbo Moore
Director & PH Kambako Safaris (Mozambique)
Jumbo Moore was born & educated in Zimbabwe, graduated from Pietermaritzburg University with an Agricultural Degree and went straight into the hunting industry at the end of 1993. In 1999, Jumbo started his own venture in Zimbabwe "Jumbo Safaris". He was predominantly based in the South Eastern Lowveld and Matetsi, but has hunted virtually all the concessions in Zimbabwe. Up to 2007, Jumbo diversified out of the Zimbabwe hunting industry, owned and managed a hide trading business, commercial grinding mill, and a vehicle maintenance garage for road haulage tankers. In 2005, Jumbo decided to follow his passion and moved his attention to Kambako Safaris in the Niassa Reserve in the North of Mozambique. Jumbo is married to Sarah, who is responsible for the Finance Department of Kambako Safaris and Pemba Beach Lodge. They have two daughters, Kyria and Kayce.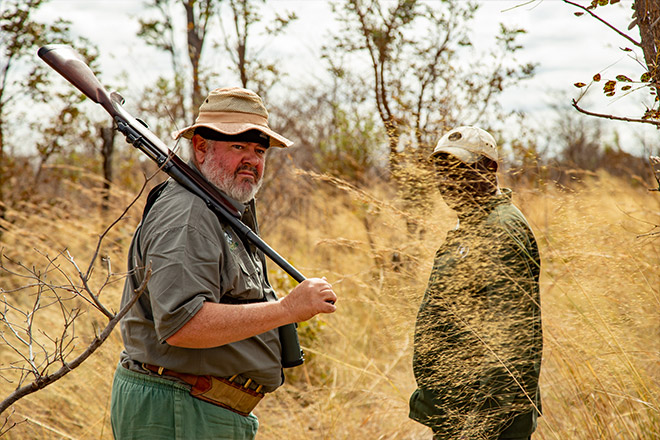 Uys Schickerling
Director & PH Chapungu-Kambako Safaris Namibia
Uys was born and raised in Namibia. Family ranch visits were a frequent occurrence and thus hunting formed a part of his life from a very young age. After completing a 3-year degree in tourism at Stellenbosch University in Cape Town South Africa in 2006 he returned to Namibia and started working in the Namibian hunting industry. He then completed a 1 year apprenticeship with Erindi Hunting Safaris and joined Omujeve Hunting Safaris in 2007 where he remained for the next 7 years. He worked his way up starting as a hunting guide to a master-hunting guide; a Professional Hunter and he finally became a big game Professional Hunter in 2013. He has since conducted several successful hunts in such capacity. Uys is father to a baby girl. He is one of the partners of Chapungu-Kambako Safaris Namibia that was established in December 2014.
Nicolai Raubenheimer
Director & PH Chapungu Safaris (RSA)
Nicolai grew up in Johannesburg. His passion for hunting started at an early age. After school he started studying Veterinary Science at the University of Pretoria, but his underlying urge to take up his passion made him decide to quit and he enrolled for a Field Guide and Game Ranger Diploma. After completing his course he started working as a field guide and game ranger in Northern Natal. Here he gained an enormous amount of experience and also did an apprenticeship with one of Natal's well-known outfitters. Nicolai then moved to the Great Karoo where he was reserve manager and resident PH. It is here where he met Jacques and soon thereafter he started working for Chapungu Safaris in mid 2012. Nicolai is an accredited PH for the Eastern Cape, Northern Cape, KwaZulu-Natal, Limpopo and North West province, as well as for Mozambique. He is currently the head PH and runs all operations in South Africa. Nicolai is married to Karlien and lives in Cape Town.
Chapungu-Kambako's Professional Hunters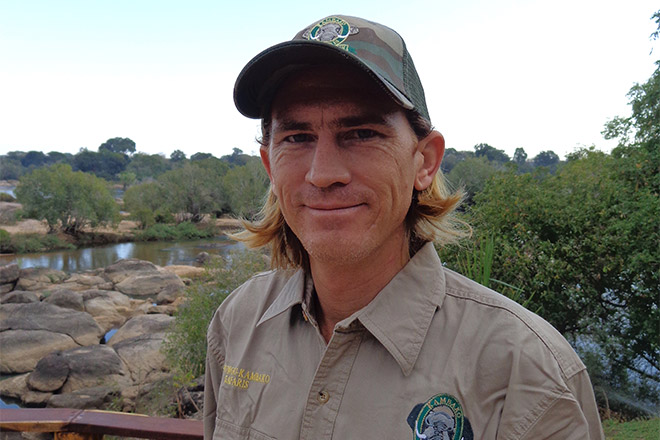 Ryan Cliffe
Head Professional Hunter Mozambique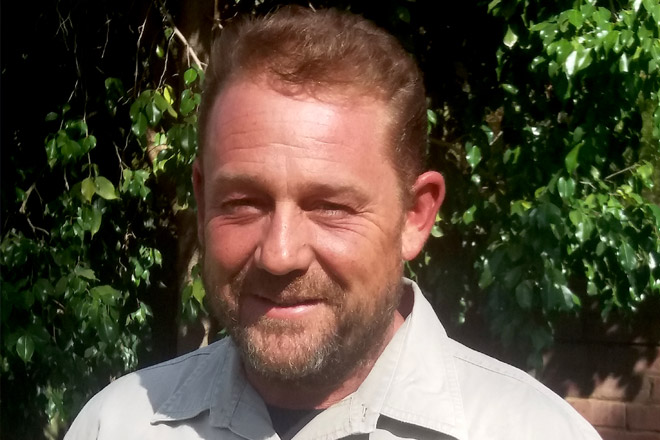 Darren Ellerman
Professional Hunter Mozambique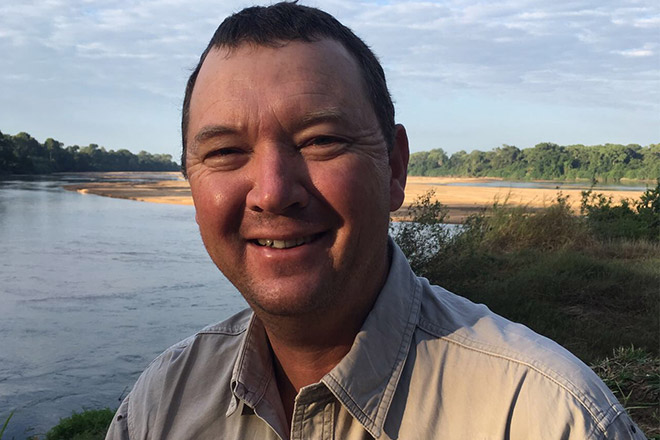 Paul Wellock
Professional Hunter Mozambique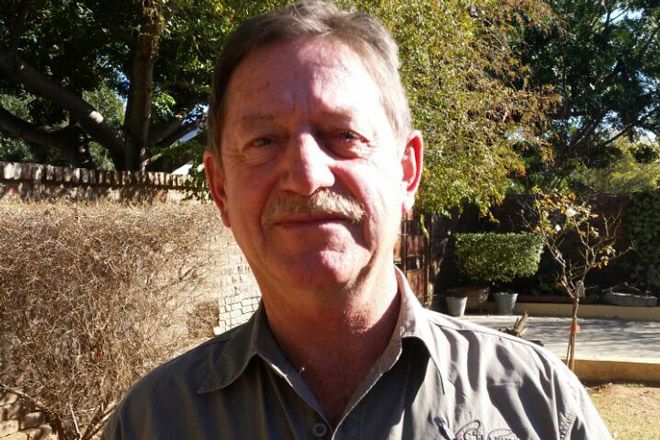 Johannes Blom
Professional Hunter South Africa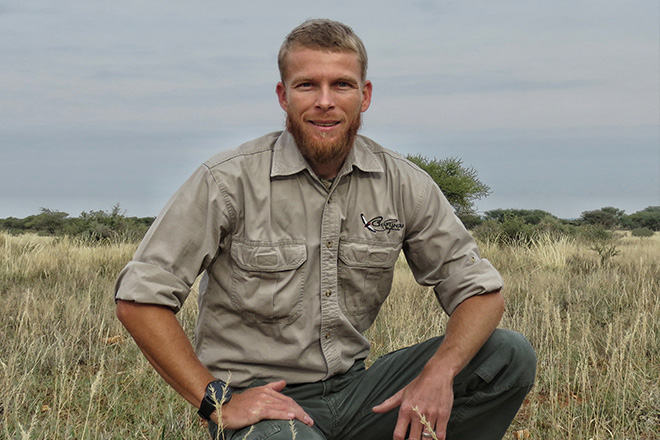 Corney Steyn
Professional Hunter South Africa